Fireworks scaring your dogs? Until CBD came along, some vets administered a short-term paralysis drug that, say owners, does not address the underlying problem: your pet's anxiety about the loud bangs.
Growth in the CBD-for-pets market is seeing California-based Grapefruit launch a new pet tincture in the US. The hemp and cannabis company is expanding its hemp-based CBD product line with a new US Department of Agriculture-certified CBD pet tincture, targeting two of the most common dog and cat ailments—anxiety and joint pain. Grapefruit's new Pet 300mg CBD hemp-based tincture is derived from USDA certified organic hemp, grown only in the United States.
The pet CBD industry has experienced growth over the last several years, with an expected market valuation of more than US$1.7 billion by 2025, according to the Brightfield Group. Overall pet ownership is also increasing, due partly to the pandemic, with more than half of US households having a pet dog or cat.
Others put the valuation much lower. The global CBD pet market size was worth US$27.7 million in 2019, says research publisher Grandview, which expects it to grow at a compound annual growth rate of 40.3% from 2020 to 2027.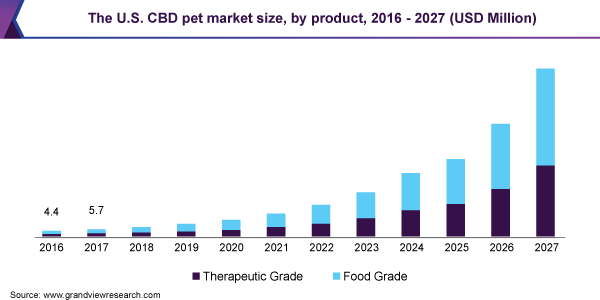 It's been a rough week for pet CBD, with US-based CBD giant Canopy Growth reportedly shedding British CBD supplier More Life, while holding on to its relationship with US TV superstar Martha Stewart, who promotes a line of pet CBD products. In May 2021, Canopy Growth named Stewart as a strategic advisor.